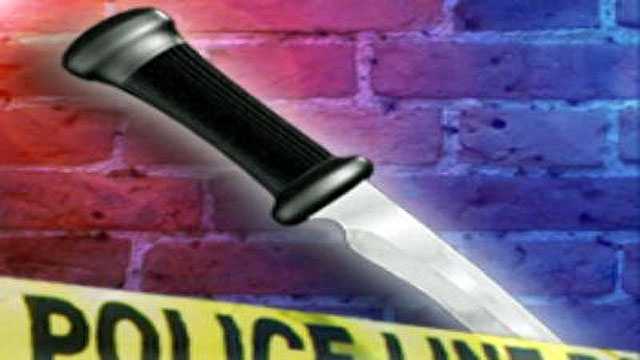 I WILL COME FOR YOU. AND EXPLODED A HEAD IN WINSTON-SALEM, A MAN IS NOW FACED ON CHARGES AFTER POLICE SAID HE STABBED TWO PEOPLE. POLICE WERE CALLED TO A HOME ON EAST 16TH STREET BEFORE 9:00 LAST EVENING. AND POLICE SAY Two victims got into a fight with William Cundiff Jr., 60, and he stabbed them. ONE FOUND SERIOUS BUT NOT LIFE THREATENING. ANOTHER
2 victims of roommate stabbing at Winston-Salem home; 1 was arrested
Two people are recovering from stabbings and a man was arrested in Winston-Salem. According to police, on Monday around 8:45 p.m., officers responded to the 400 block of E. 16th Street, near Ivy Avenue, for a report of a stabbing. Upon arrival, the police found two victims: a 48-year-old man and a 38-year-old woman. Both were in the house with stab wounds and cuts. Investigators later learned that both victims were involved in an altercation with another resident, identified as William Cundiff Jr., 60, of Winston-Salem. The injured man was taken to hospital in critical condition. The victim was taken to the hospital with serious, non-life-threatening injuries. Cundiff was arrested and charged with two counts of assault with a deadly weapon inflicting serious injury. Cundiff was granted a $30,000 bond. All three lived in the house, according to the police. "The Winston-Salem Police Department is asking for the public's assistance in this case. Anyone with any information regarding this incident or similar crimes is asked to call the Winston-Salem Police Department at 336-773-7700, Crime Stoppers at 336 -727-2800 or En Espanol 336-728-3904," according to the press release. Trending stories
WINSTON-SALEM, NC –
Two people are recovering from stabbings and a man was arrested in Winston-Salem.
Officers responded to the 400 block of E. 16th Street, near Ivy Avenue, on Monday around 8:45 p.m. for a report of a stabbing, according to police.
Upon arrival, the police found two victims: a 48-year-old man and a 38-year-old woman. Both were in the house with stab wounds and cuts. Investigators later learned that both victims were involved in an altercation with another resident, identified as William Cundiff Jr., 60, of Winston-Salem.
The victim was taken to the hospital in serious condition. The victim was taken to the hospital with serious but non-life-threatening injuries.
Cundiff was arrested and charged with two counts of assault with a deadly weapon causing serious bodily injury.
Cundiff was granted a $30,000 bond.
All three lived in the house, according to the police.
"The Winston-Salem Police Department is asking for the public's assistance in this case. Anyone with information regarding this incident or similar crimes is asked to call the Winston-Salem Police Department at 336-773-7700 or Crime Stoppers at 336-727. -2800 or En Espanol 336-728-3904," according to the press release.
Popular stories
2 victims of roommate stabbing at Winston-Salem home; 1 was arrested
Source link 2 victims of roommate stabbing at Winston-Salem home; 1 was arrested