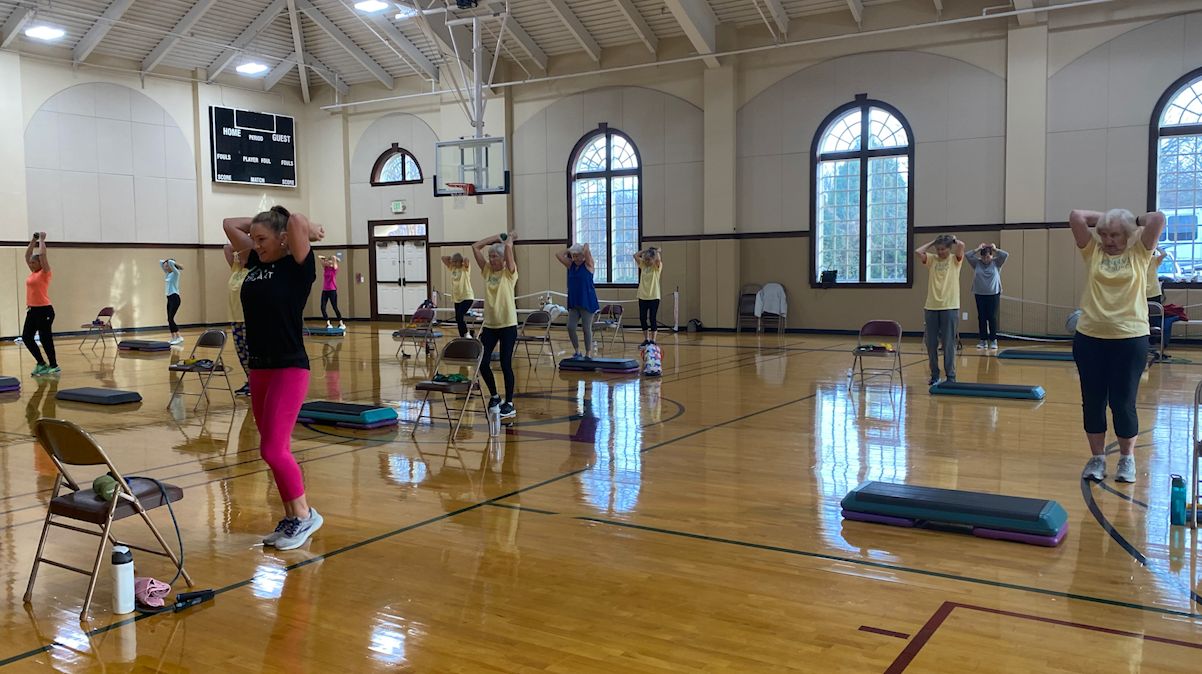 RALEIGH, NC — Whether you walk into Jenny McClendon's fitness class in person or virtually, you'll be greeted with cheers and music to keep you moving.
While McClendon's class, Fit Over 50, is for women 65 and older, everyone is welcome.
McClendon is a physical therapist who began teaching aerobics at age 17.
"I just fell in love with coaching and teaching classes, and I developed a greater love for helping others," McClendon said.
In 2008, she began teaching Fit Over 50 at her church in Raleigh.
"We include things to improve their balance, things to improve their bone strength, muscle strength, things that are safe and appropriate," McClendon said.
Her face-to-face classes were briefly halted when the COVID-19 pandemic shut down businesses across the country. But its members still willingly trained.
In March 2020, McClendon became a household name among seniors across the country when she began posting her fitness videos online.
"The next thing I knew, it was just millions of views, so it was really fun connecting with people from all over the world, and from there it just grew into a full-time job and a membership group and that's how we all connect," McClendon said.
Every Tuesday, McClendon hosts a live chat and live workout on her YouTube channel, Jenny Fit Start, where members can do live workouts with her from anywhere in the country. She also publishes videos that people can access at any time of the day for free.
"The idea is that we're doing the same things they did when they were younger, but we're just putting a different emphasis on it," McClendon said.
The Centers for Disease Control and Prevention recommends that people age 65 and older exercise at least 30 minutes daily to improve quality of life and continue to live independently.
"It's great for the beginners, but it's really great for the seniors, and I think they feel completely safe with me," McClendon said.
Lisa Giles has been taking McClendon's classes since she started teaching in 2008. Giles was diagnosed with osteoporosis, a disease that weakens bones and can cause them to break easily.
"My doctor called me one night a few years ago and he was very excited because I had a bone density test and it showed an improvement from my previous test, which is very unusual for osteoporosis," Giles said.
Giles says her osteoporosis was reduced to a diagnosis of osteopenia, a less severe form of the disease.
"It's a big part of my life. I haven't been consistent lately and I really deserve to continue working out with Jenny to build muscle and bone density," said Giles.
McClendon began working with elders while in college.
"There is something very inspiring and motivating about them. You know, they say that about me that I motivate them, but for me it's the exact opposite," McClendon said.
In October, McClendon held a fitness retreat for her members in Italy. She will be hosting a fitness jamboree in Wilmington in April.
A Raleigh fitness trainer makes exercise accessible to seniors
Source link A Raleigh fitness trainer makes exercise accessible to seniors