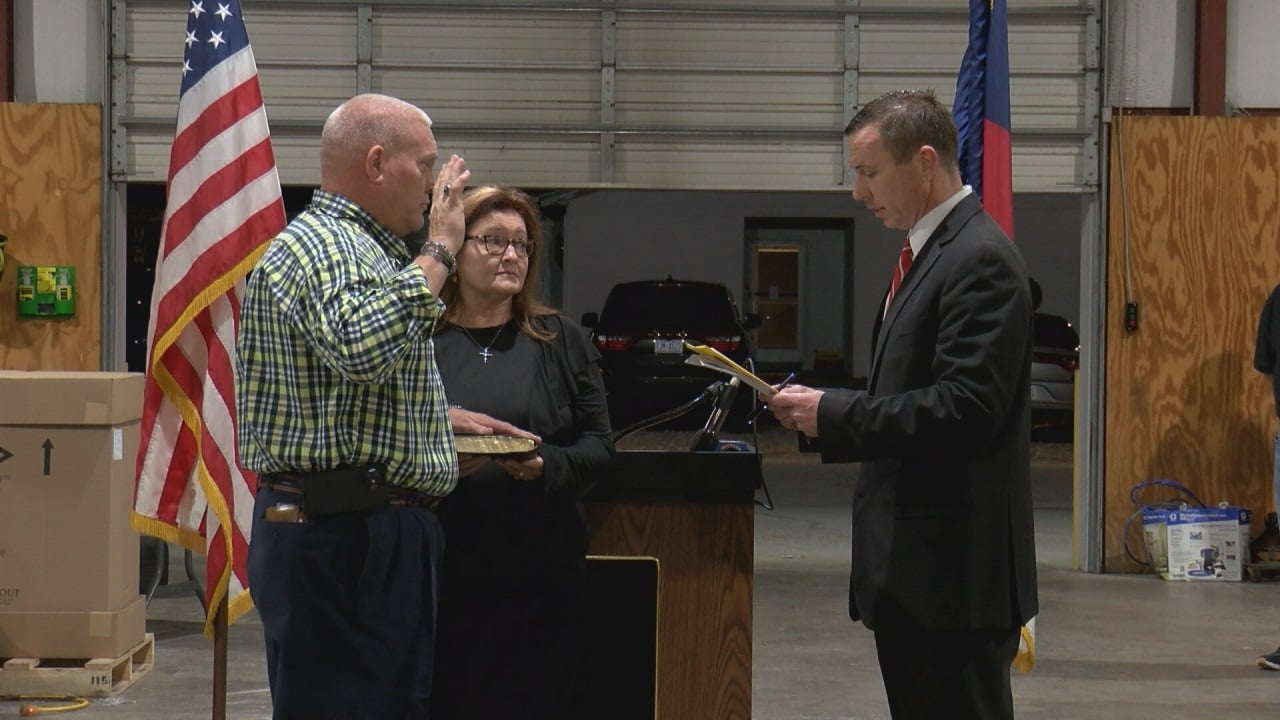 COLUMBUS COUNTY, NC (WWAY) — A day later Jody Green has resigned as Columbus County Sheriff for the second timea new sheriff was appointed.
Commissioners called an emergency meeting Thursday afternoon to appoint a sheriff, selecting Bill Rogers as Columbus County's new sheriff in a 6-1 vote. Brent Watts was the lone dissenter, saying he wished commission members had more time to make a decision. However, he added that he supports Rodgers 100 percent.
"The last few months have been difficult for our country. Today we are moving forward in a positive direction and putting the past behind us," said Ricky Bullard, chairman of the Board of Commissioners during the meeting.
Including the last few months in Columbus County allegations of racist remarks by former Sheriff Jody Green. Shortly after the allegations surfaced, Greene was removed from office in early October following a motion filed by District Attorney John David. Before David's motion was heard in court, Green resigned from his role as sheriff. However, Green's name remained on the ballot and he won re-election in November.
Two protests were filed by two different people to prevent Greene from officially taking office, but both failed at the local and state levels. Green was sworn in as sheriff on 29 December. on the same day the district attorney filed another motion to remove him from office and permanently disqualify him as sheriff of Columbus County.
Six days after Greene was sworn in resigned from his post for the second time.
During the commissioners' emergency meeting, Bullard said the decision to appoint Rogers was made after the board received positive feedback after his appointment as interim sheriff following Green's first resignation. Bullard says the board was pleased with Rogers' ability to bring the staff together.
"I just want to bring everyone together because that's going to be the key to bringing the community and the whole county together. For us, our families, our schools, getting everyone back on the same page," Rogers said.
Curtis Hill, president of the Columbus County NAACP, says Rogers' taking office is a step toward restoring confidence in law enforcement.
"These gentlemen put their lives on the line every day to protect us all. We want people to be aware that they are still working and doing their job," Hill said. "Even though there may have been some people in the other office who didn't do the right thing, we hope we can restore that trust in our community."
However, not everyone is happy with the decision. Green did win his re-election bid, so some voters expressed frustration that they felt their votes weren't being counted.
"Jody Green was the duly elected Sheriff of Columbus County and the will of the voters must be respected unless there is a compelling reason not to. I have given over seventy pages of what I believe is a compelling reason why he should be removed from this position, and that is why we have decided to act.' John David said after announcing Green's resignation on Wednesday. "The moment of healing that can come in the future is to ensure that we have a sheriff who will serve all the citizens of Columbus County and honor their oath to protect and serve and uphold everyone's constitutional rights, and I know that the county commissioners ​strive to do so"
Rogers says he hopes all the citizens of Columbus County will give him a chance.
"I promise them I'll do a great job and I'll do my best to do what's right," Rogers said.
Before being named interim sheriff in October, Rogers recently retired from more than 25 years as a state trooper.


Bill Rogers sworn in as Columbus County Sheriff
Source link Bill Rogers sworn in as Columbus County Sheriff