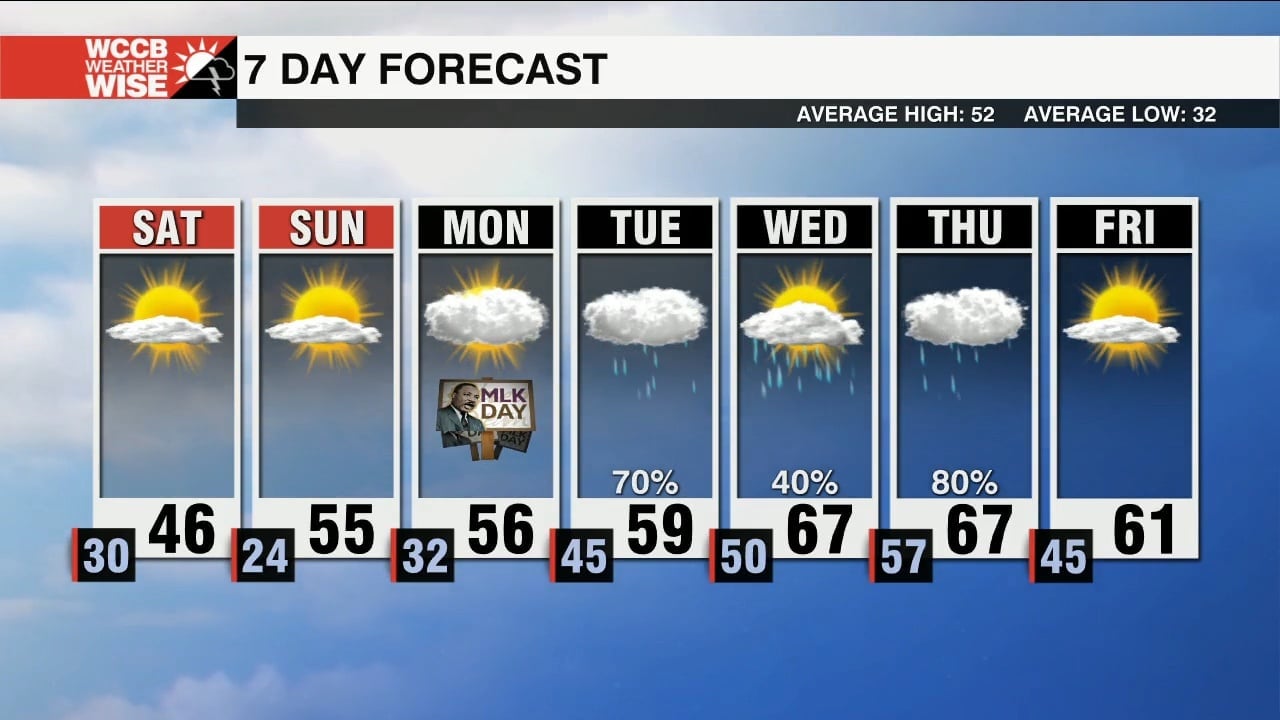 More clouds are building in for the afternoon of our MLK day, but the chance of rain will continue into Tuesday.
Mother Nature's northwesterly snow machine is finally coming to a halt, but not before dumping more than 6 inches of the white stuff in areas like Beech, Sugar, and Grandfather Mountain. A few squalls reached the southbound lanes of I-485 Friday evening, but no accumulations were reported outside the High Country. Many in the Piedmont and Foothills will see the coldest night of the year with lows in the 20s and twenties when we wake up on Sunday. More clouds are building in for the MLK holiday, but temperatures should climb into the 50s Sunday and Monday.
The chance of rain returns to the forecast as most return to work on Tuesday. A second rainmaker trains right after Tuesday's system; we may need to watch for strong storms Wednesday through Thursday. Highs may return to the 70s again as the second half of the week rolls around. Near normal temperatures will return next weekend as it dries out.
Tonight: Clear and cold. Minimum: 25°. Wind: South 5-10.
Sunday: A beautiful January day. Maximum: 56°. Wind: South 5-10.
On Sunday night: mainly without clarification. Minimum: 32°. Wind: weak.
MLK Day: The clouds are gathering. It remained dry. Maximum: 56°. Wind: SW5-10.


Dry bank holiday weekend, dirty midweek
Source link Dry bank holiday weekend, dirty midweek