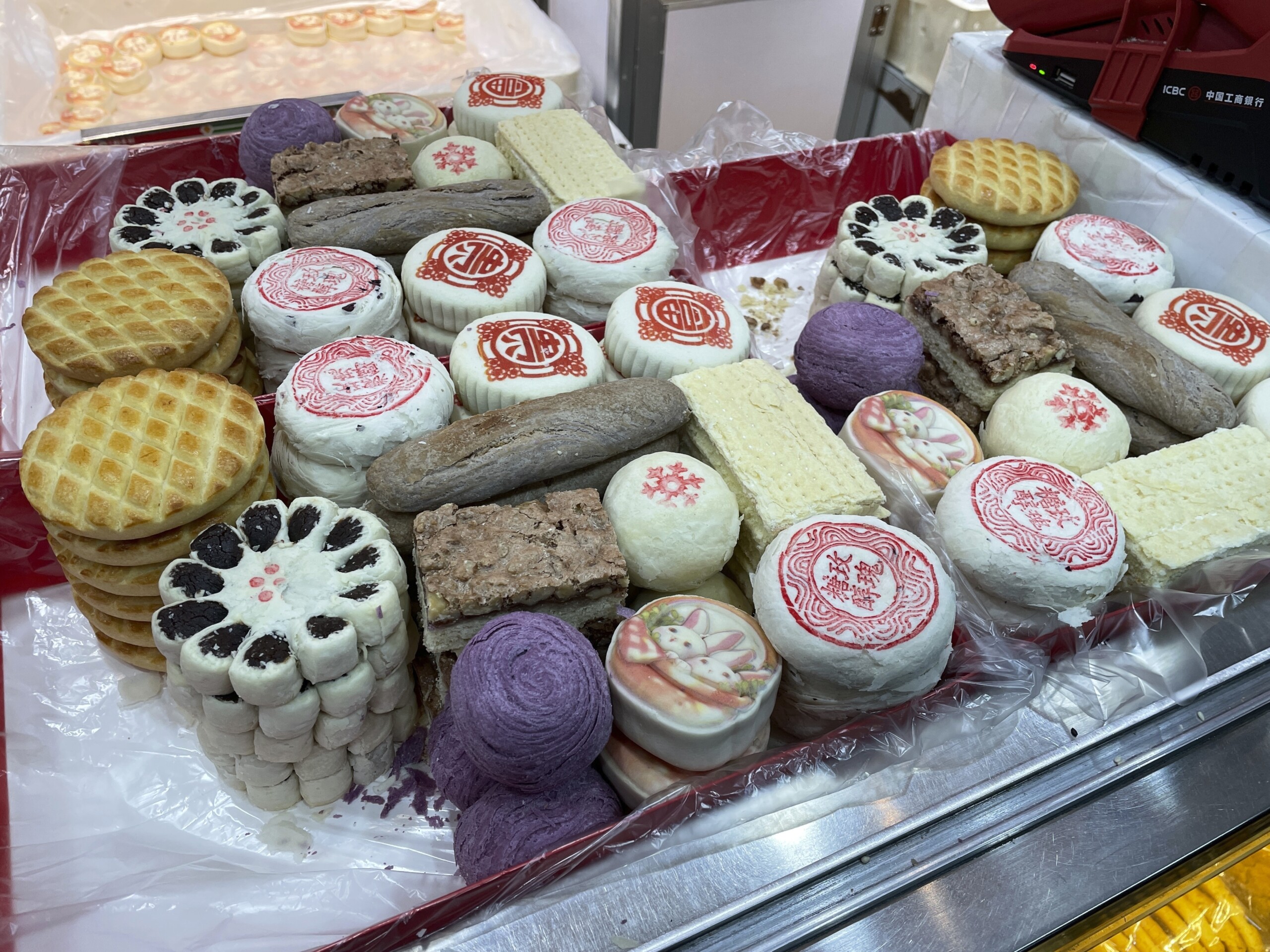 Every Lunar New Year, Cat Lew's mother made steamed nyan gao, which is a sweet rice cake or mochi, a must. It was a delicious tradition to have breakfast with dessert.
The Seattle-based cookbook author of Modern Asian Baking at Home and founder of the online group Subtle Asian Baking is switching things up for her 9-year-old son. On the first morning of the new year, he gets mochi waffles with bright green pandan.
"I'm going to make waffles again this year," said Liu, who is half Chinese and half Vietnamese. "I'm also going to steam some nian gao and stuff and try to make him appreciate it more as well."
Unlike Thanksgiving, when pie is a given in many families, the desserts and confections for Lunar New Year are as varied as the Asian diasporas around the world who celebrate it.
Families from China to the United States and Vietnam will mark the new year on Sunday with traditional customs, such as elaborate dinners and red envelopes with money for children. There will be the usual sweet snacks like nian gao. But in an age of social media, food awareness and cultural pride, younger generations of Asians are also getting more inspiration for dessert dishes that are quirky and creative, from black sesame financiers to peanut butter miso cookies.
In Beijing, residents flocked to the flagship store of Daoxiangcun, one of the city's best-known bakeries, for New Year's dessert gift boxes in which some of the cakes were shaped like the rabbit, China's animal of the coming year. the zodiac
According to the employee, people queued outside the store for up to four hours on Saturday to get a chance to buy baked goods. Even at a less popular branch half a block away, customers still had to wait 40 minutes.
For Lexi Lee, it was about bringing a little something to loved ones, even if it meant waiting in line for seven hours in sub-zero temperatures.
"I don't really like desserts and cakes, but I just want to bring something home as a gift," said the 30-year-old, who left with a stack of eight boxes for friends and family in her hometown of Taiyuan. in the central Chinese province of Shanxi.
Known for its diverse food culture, China offers many desserts for the Lunar New Year, usually made with rice or flour. These include tan yuan, which are mochi-style rice balls with black sesame or peanut paste in a soup, as well as sesame balls, almond cookies, candied lotus seeds and fat goh – steamed cakes, also known as prosperity cakes .
Nian gao remains one of the most popular options. Its key ingredient is glutinous rice flour, along with other things like taro, dates, ziziphus, and red bean paste, depending on the variety. Its name in Chinese is a homonym of the word "higher year", which means a happier year ahead and expresses the wish that children grow taller.
The well-preserved tradition plays an important role in the transmission of Chinese culture because it supports a food culture that honors grains and reminds people of how festivals have been celebrated since the 7th century, according to Xu Yang Ho, a Hong Kong-based expert on Chinese culture. nutrition.
"Food is a memory, and that memory is tied to festivals," Siu said.
In Vietnam, which celebrates the Year of the Cat, sweets also vary by region. The Vietnamese eat nan gao, which they call banh. They also eat che kho gao nep, a pudding made from sticky rice and a mixture of water, ginger and sugar or molasses. Other delectable dishes include che kho dau xanh—a mung bean pudding made with coconut milk and sugar—and banh tet chuoi, a sticky rice cake with bananas.
"On Lunar New Year, you visit family, friends and teachers for three days," said Linh Trinh, a Vietnamese food historian who is pursuing a PhD on the subject at the University of Michigan. "So everyone should keep a lot of snacks in their house so that people can come to visit and have tea. Serving traditional snacks becomes the pride of the household."
More American companies are finding the sweet spot in incorporating elements of the Lunar New Year. Cupcake chain Sprinkles, in collaboration with pan-Asian non-profit cultural support organization Gold House, sells red velvet cupcakes with almond cookies and almond cream cheese frosting. At Disney California Adventure Park, guests can order cheesecake with milk tea and taro mousse.
Judging by the more than 150,000 members of the Subtle Asian Baking Facebook group, many Asians prefer to show off what they've cooked for the holiday rather than what they've bought. The community has come a long way since Liu founded it in 2020. Now in its third year, Facebook and Instagram have hosted a virtual New Year's baking event based on the lunar calendar, where participants share photos of stunning macarons, chiffon cakes and other baked goods.
"You innovate. You bring an appreciation for all these amazing ingredients," Lew said. "And then you make it your own tradition, which is amazing."
Kelson Herman of San Francisco made a sourdough bun featuring Miffy, the bunny girl from the popular Dutch children's book series, for the Lunar New Year. Already an avid baker, the 44-year-old was inspired by seeing what other people were doing online.
"I see a lot of boundaries being pushed, people trying to not just compare each other, but to be more creative," Herman said. "I feel that it all boils down to aromas that evoke certain family memories. … It can be things that just spark conversation and family."
In Queens, New York, Karen Chin made a two-tier cake covered in coconut buttercream and topped with a white chocolate bunny. One layer was vanilla with red bean paste. The second was a cardamom spice cake with mango curd. It's a far cry from the greasy gohu that her grandmother makes.
"I told my grandmother that I would make a cake. And she said, 'Don't make it difficult,'" Chin said, smiling.
But Chin's work brought special family moments.
"I was very touched because last time when she came and ate something, she said, 'You make good food.' I said, 'Wow, that's the first time she ever complimented me,'" Chin said.
Sue Ng, who was born and raised in Canada and now lives in Hong Kong, loves to make "cute" cakes for special occasions. During the pandemic, she discovered a passion for combining baking with her love of Asian pop culture. Past Lunar New Year creations have included a roll that looked like White Rabbit Creamy Candy, a Chinese brand as iconic as the Hershey bar.
Ng said that as her two school-age daughters grew up in Hong Kong, they learned about the importance of the Lunar New Year, including the food. But she also likes to add something different, like black sesame finos and salted egg yolk cookies.
"To me, a Lunar New Year dessert is something made using Asian elements with reference to goods traditionally made at this time," Ng said in an email. "Now we can get creative and make something like Nian Gao Stuffed Cookies and the ideas are endless! Sweet treats are a must at this time, as they symbolize a sweet life."


For the Lunar New Year, desserts can be ordinary or "sweet"
Source link For the Lunar New Year, desserts can be ordinary or "sweet"