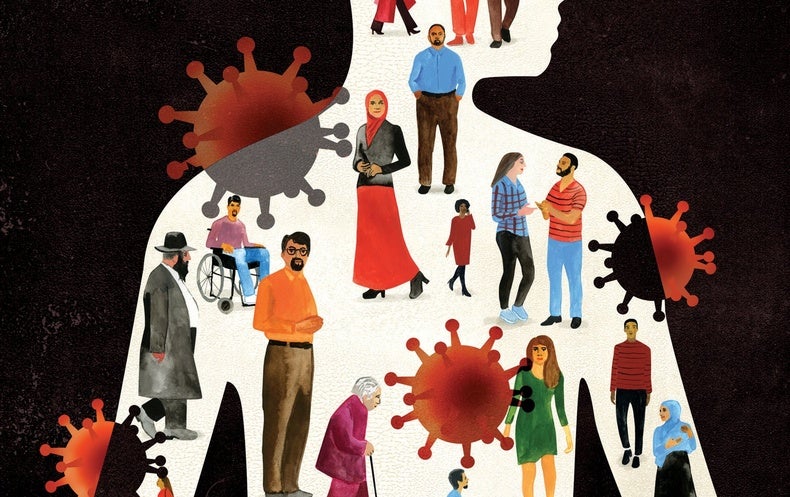 Фor countless Americans, there was dull but persistent pain before the pandemic life: expensive housing, nearly inaccessible health care, resource-poor schools, wage stagnation, and systemic inequality. It was a familiar pain, a kind of chronic pain that people learned to live with simply because they had no choice. Faced with outdated security networks and a cultural spirit that upholds nationalist myths about self-sufficiency, many people did what people always did when needed: they sought emotional comfort and material help from their family and friends. But when struck by COVID-19, relying on our immediate networks was not enough. Americans willingly think they are immeasurably strong, immune to the problems people face in other countries. In fact, our social and economic support systems are weak, and many people become vulnerable to virtually any change in their ability to earn a living. The consequences of the pandemic are an urgent call to strengthen our relief systems.
Anthropologists have long recognized that an exceptionally high degree of sociability, cooperation, and community are the hallmarks of humanity, traits that separate us from our immediate relatives, chimpanzees, and bonobos. This interdependence has been the key to our success as a species. In this sense, we humans have an evolutionary mandate to be generous and take care of each other. But unlike the first people who lived in relatively small groups, we cannot count only on the support of our closest relatives and friends. We need to invest in national public service policies – policies that facilitate access to resources for people in need – to an extent commensurate with the size and complexity of today's globalized society.
In a sense, the confusion of our daily lives has made us even more vulnerable to a virus that is spreading through the air that has demanded social isolation, blowing up the facade of normalcy in the spring of 2020. The new normal phenomenon of COVID, with the wearing of masks, social distance, locks and closed schools, has forced us to abandon our basic instincts and turn away from our closest friends and family. It rents the social fabric we all hope for.
Infectious diseases are an unusual problem: to fight them effectively, we need to provide care properly and consistently on a scale. This pandemic has revealed the fragility and shortcomings of every layer of our lives – from our immediate family and friends to the nation-state on the periphery – and the differential risk felt by the core community of any person. Communities that have already invested heavily in social protection networks through measures such as paid sick leave have been able to reduce COVID levels. Those who embraced the ideology of self-sufficiency and individualism continued to suffer and lose their lives.
New Zealand (Aatearoa in the Maori), a country with a long history of numbers with its colonial past and building community, was a remarkable success story in the pandemic. There, the government confronted COVID with nationwide orders to stay home, border controls, hygiene campaigns, affordable testing and contact tracking. The results were dramatic: in the 18 months since the pandemic, only 27 deaths from COVID have been recorded in the country. By the end of 2021, 90 percent of eligible citizens have been fully vaccinated. Although the new options challenge these successes, the government remains deeply committed.
Similarly, Taiwan has rejected predictions that it will fight COVID infections, like its neighbors in China, by introducing a 14-day isolation policy for travelers entering the country, boosting mask production, tightening border controls and replacing quarantine staff. which could help isolated citizens. By March 2021, there were only 10 deaths from COVID in a country of nearly 24 million people. Taiwan has fought every new wave of the pandemic with this tactic. While we can more often than not reach out to our immediate environment in times of need, ultimately we must rely on local and national officials on the periphery of our lives to be sophisticated people – as were the leaders of New Zealand and Taiwan – if they develop and adopt health policies.
In the U.S., government support has been inconsistent, and citizens have found it difficult to work together to contain the virus. The roots of these problems are deep. Since the founding of this country, the dominant ideologies here have encouraged not only individualism but also the dehumanization of certain groups, as evidenced by the enslavement of blacks and the expulsion of indigenous communities from the lands of their ancestors. This dehumanization continues today in the form of an initial narrative – the myth that everyone can prosper only if he works hard enough – and in an effort to weaken programs to help people in need. As a result, even though we now know how the virus spreads and causes disease, and we have effective vaccines against it, the death toll from COVID in the U.S. is higher than anywhere else.
There have been several success stories in the United States – they can be found in groups that have fundamentally different ideological attitudes to community interdependence. The Navajo nation, which initially had some of the highest COVID-related morbidity and mortality rates, conducted its own vaccine education campaigns and introduced domestic vaccine distribution policies. It has achieved much higher vaccination rates in its reservations than in the surrounding areas. Tribal values, which the group prefers to face, helped motivate members to get their pictures. Unfortunately, in late 2021, the virus has risen again among the Navajo, possibly due to low levels of vaccination in neighboring areas.
The microbe discovered the lies of brutal individualism. We are not self-sufficient and independent; we never were. Our destinies are connected. Taking care of others is taking care of yourself. With the advent of the highly infectious version of Omicron we are paying the price for not developing a strict policy in the beginning and not following it. But that doesn't mean we should just give up the fight. Instead, we must redouble our efforts to provide assistance and resources to vulnerable members of the community. The emergence of each new version of COVID is an opportunity to reflect on what worked and what did not work with the latter, locally or at the other end of the world. Committing to fulfilling our evolutionary mandate to help each other – not just the people we see every day, but everyone, everywhere – is the only thing that will save us.
How the virus revealed the myth of brutal individualism
Source link How the virus revealed the myth of brutal individualism