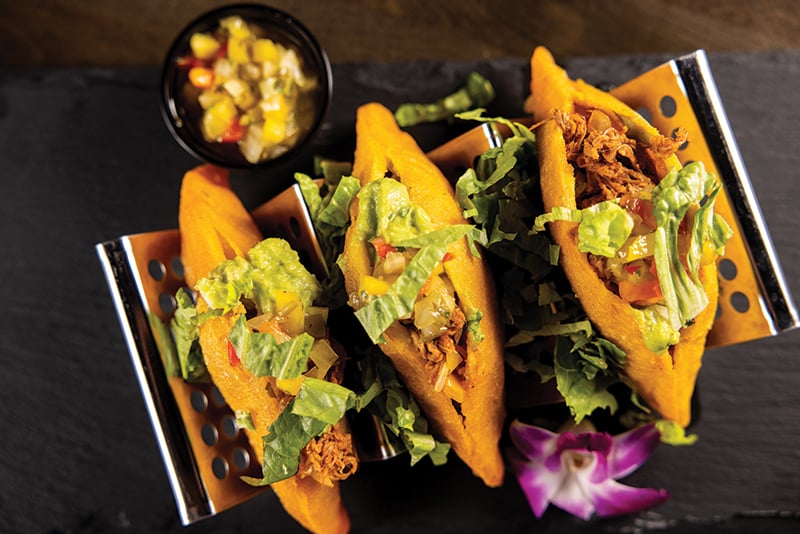 Charlotte has a lot of Mexican restaurants, but the stretch of South Boulevard between Woodlawn and Arrowwood roads has become one of the city's hubs for authentic food from all over Latin America: Cuba, Honduras, El Salvador, Peru, Colombia, and now Venezuela. Los Chamoswhich opened in September, serves traditional Venezuelan dishes and street food with some fusion and international touches.
Central American dishes commonly use regional ingredients such as yucca, palm flowers, and plantain. So what makes Venezuelan cuisine different? Staples such as corn, rice, and beans are staples; the most common item is arepas, or cornmeal cakes, which are served with just about anything. The Venezuelan version is generally smaller and thicker than the Colombian version and uses only three basic ingredients: corn flour, water and a pinch of salt. Venezuelan cuisine is also rich in quesa blanca, or white cheese, whose names are based on its regional varieties.
Chamos is slang for "brothers" or "dudes" in Spanish, and it fits the restaurant's playful, anything-goes aesthetic. The outside is nothing fancy—it's sandwiched between a Webtax and a chiropractor in a rundown strip mall—but the renovated interior is decked out with live plant walls, a live-edge bar, and neon signs that read things like "all you need is love . " There's a roll of paper towels on every table (street food can get messy), and coolers along the back wall stock Venezuelan cheeses, dips, drinks and food for purchase. Flat-screen TVs hang above the six-seat bar, while reggae covers of pop songs play in the background.
Ecuadorian chef Esteban Mancayo created the menu, which is printed on four pages of carbon paper stapled together. All dishes are listed in Spanish, but there is an English description below. If you need a visual, just look at the flat screen closest to the entrance; it displays images of each menu item in a loop.
Drinks include Papelón (similar to sweet tea); Chicha (rice-based drink); and a rotation of juices such as mango, blackberry and passion fruit. They also serve Malta Polar, a non-alcoholic malt drink that is popular in Venezuela.
If you have kids (or you're just looking for a kid-friendly meal), start with the Tequeños ($8.99), three breadsticks stuffed with cheese. Empanadas ($4.49) come to order with your choice of beef or chicken and a side of guasacaca, the Venezuelan version of guacamole. Just be careful if you plan on getting a full appetizer too, because these empanadas are more filling than they look. Pork Belly Arepas ($15.99) feature six cornmeal patties filled with Asian pork belly, garlic mayo and shredded cucumber and carrot—order them if you're coming with a large group.
For the most authentic taste on one plate, order the Pabellón ($19.49), Venezuela's national dish, which includes shredded beef, white rice, black beans and fried sweet plantains. Pepitos (sandwiches) include the Ribeye ($17.99) and the Parrillero ($15.99), which is similar to Venezuelan barbecue. You can also get the Venezuelan burger ($14.99), a half-pound of beef topped with bacon, lettuce, tomato, ham, onion and garlic cilantro sauce.
If you're here for street food, ordering the Patacon ($14.49) is the way to go. You get two (two!) fried plantain sandwiches instead of bread, loaded with shredded steak, coleslaw and a dollop of guasacaca. No shame if you can't finish both; just take the second one home for an encore.
If Spanish is not your first language, don't do it let it hold you back. The servers can translate anything you don't recognize, and the sauces and spices don't destroy your taste buds. The kids are almost guaranteed to find something they'll love (who doesn't love a breaded fried cheese stick?), and you'll have paper towels handy if you need them. When you've tasted something you like, check out the fridges and bring home a taste of Venezuela.
Just don't forget to take a picture between the neon angel wings on the way out.
Taylor Bowler is lifestyle editor.
---
LOS CHAMOS
7001 South Blvd.
Opening hours:
11 a.m.-8 p.m. Sunday-Thursday
11 a.m.-9 p.m. Friday-Saturday


Los Chamos brings Venezuelan flavor to South Boulevard
Source link Los Chamos brings Venezuelan flavor to South Boulevard