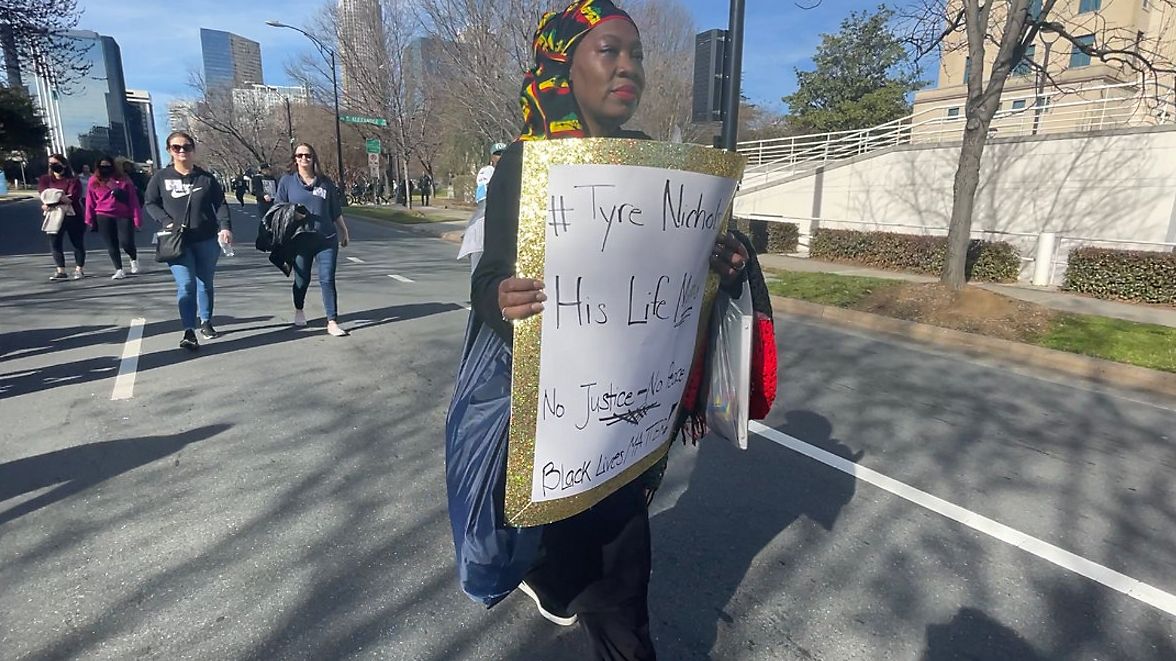 CHARLOTTE, N.C. — Dozens of people marched through the Charlotte area Saturday in response to the death of Tyro Nichols, a 29-year-old black man who died after being beaten by members of the Memphis Police Department.
Five police officers, all black, are charged with second-degree murder for their actions in connection with Nichols' death.
Memphis officials on Friday posted a body camera video showing images of Nichols being beaten by the police.
There is a video caused outrage across the countryraising questions about the work of the police in the country.
In Charlotte, dozens of people took part in a protest organized by the Charlotte-Mecklenburg County chapter of the NAACP, condemning the actions of a Memphis police officer.
Protesters marched through downtown Charlotte, holding signs and chanting, calling for justice for Nichols and other cases of police brutality.
Charlotte-Mecklenburg NAACP President Rev. Corin Mack says the Memphis video shows there is a huge problem with police in our country.
"I was angry and disgusted," Mack said. "We're talking about black people beating Nichols like he wasn't human, like he was a punching bag. I am disgusted that any person [thinks] it's okay to treat another person like that, especially one who's sworn to protect and serve."
She says the protest is meant to lift the spirits of the Nichols family while calling for more to be done to prevent this from happening to anyone else.
"We can no longer accept this system," Mack said. "He requires a more humane basis, not [have that] now. We've had murders here in Charlotte where officers were not held accountable. I go back to Jonathan Ferrell case in 2013. We hoped [for an outcome] we didn't get it."
In 2013, Charlotte authorities confirmed Jonathan Ferrell died after being shot multiple times by then-CMPD officer Randall Carrick.
Ferrell was unarmed and had crashed his car in the area on Reedy Creek Road before the shooting.
Kerrick was charged with first degree murder after Ferrell's death. Carrick's trial was later dismissed.
Spectrum News 1 spoke with numerous protesters who said officer-involved shootings in Charlotte and other areas have caused them to lose trust in police. Seeing officers beat a black man, some residents say, makes it even harder to repair that trust.
Kimberly Williams, a Charlotte native, is one of many protesters who have condemned the images seen on Memphis police body cam video.
"It was heartbreaking, it was devastating, it was overwhelming," Williams said. "It reminded me Freddie Grayit reminded me Eric Garnerit reminded me George Floyd."
Williams says she's sick of seeing images of black people dying after interactions with police. She says those concerns only grew after seeing the officers beat Nichols.
"I think it reinforces a generational mistrust," Williams said.
Spectrum News 1 took Williams and other protesters to Charlotte Mecklenburg Police Chief Johnny Jennings, who are concerned about the police. The chief and several members of his department attended an NAACP protest event in Charlotte.
Jennings says he's here to make sure people know he's condemning what he saw on Memphis police body cam video.
"When Tire was first struck, they stopped being cops and became criminals," Jennings said. "It's certainly something that's hard to watch. We strongly condemn what we saw in the video of the death of Tyre Nichols in Memphis. We've taken a very big hit, not just in the law enforcement community and the black and brown community, but as a community as a whole. I think it's important to show that we don't condone what we saw."
Jennings says his department has worked hard to improve relationships with the residents they serve.
"Our department has been very big on how we treat each other and how we treat those we come in contact with outside of our department," Jennings said. "It couldn't be more important right now. We need to be able to show what our mission is and why we work in communities in the first place. It's not about picking people up and pulling them out of their cars and beating them up and doing anything close to what you saw in that Memphis video. We need to make people feel safe and secure, even when they interact with us."
He says incidents like the one in Memphis set back those efforts.
"To law enforcement agencies across the country that had to watch and realize that the hard work that we've done for several years can be destroyed and we have to start from scratch again," Jennings said. "This is a disappointment on our part. It's getting harder and harder to talk about these things and try to tell people that our profession is honorable and noble and we're still doing so many great things in the community and keeping our community safe. But when you see something like this, even if it didn't happen in Charlotte, it still affects us, our community, and our profession. It will take time. Reform does not happen overnight. I thank Memphis Police Chief Davis for taking swift action to stop the officers, while the District Attorney is taking swift action to prosecute and bring charges against these officers. This is a good step. If we go beyond the law, we must be held accountable, just like anyone else who does the same."
Jennings says his department will continue to build trust with the citizens they serve.
"I don't know if we can ever relax and get there, but the effort has to be there day in and day out," Jennings said. "While I was watching this video, I could feel every blow. We are talking about a person and [for] someone being treated like this, being completely ignored and pushed aside like trash was hard to watch. I feel there is still a lot of work to be done in our profession across the country."
Residents like Williams are demanding that something change so that what happened to Nichols and other cases of police brutality never happen again – anywhere.
"There are no duplicates for those affected," Williams said. "It can happen to anyone."


People are expressing outrage over the death of a Memphis man
Source link People are expressing outrage over the death of a Memphis man