Whether you need a printer for a small business, home, office, or school, it's important to choose a device that makes printing quick and easy. Choosing the best printer can be complex due to the wide range of features available. You might be wondering which features are worth investing in and which specs you should pay attention to when comparing printer reviews.
Our guide to the best printers will give you a better idea of the features and innovations that match your needs, starting with the best all-around model, the HP OfficeJet Pro 9025e. This printer is our top choice because it has endless printing options and top-notch quality.
HP OfficeJet Pro 9025e
Best all around printer for home and office
Pros
Solid print quality
Fast speeds suitable for office printing
Integrated MFP capabilities
Automatic duplexing
Cons
Small touchscreen
ADF tray capacity could be bigger
Why should you buy this? It's a solid all-around printer that's great for documents and photos.
Who is the HP OfficeJet Pro 9025e for? Homes and offices with moderate printing needs.
Why we picked the HP OfficeJet Pro 9025e:
The prior generation HP OfficeJet Pro 9015 was a solid printer, and HP has made some improvements to make it an even better color inkjet this year with the OfficeJet Pro 9025e. Though the price has increased jumping to the most current model, you're getting faster print speeds — at up to 24 pages per minute on black-and-white prints — along with 1,200 dpi scans and an automatic document feeder with a tray capacity of 35 pages for quick scans and copies. The tray loader can handle up to 250 sheets of paper, and the printer can output to a variety of formats and paper sizes, including envelopes, cards, labels, and more. And with an output of up to 4800 x 1200 resolution for color jobs, this printer is versatile enough to handle photo printing as well.
With the OfficeJet Pro 9025e, HP includes six months of its Instant Ink subscription service, which monitors how much ink you have in your cartridge and sends you replacements when you're running low. While it may not be worth it to subscribe if you're not churning out regular print jobs, it's a nice feature for small offices with limited space in supply closets. Other features include Wi-Fi printing, a companion app to monitor print status, and support for AirPrint. HP also sells XL cartridges, which will help reduce printing costs in the long-term. This printer averages about 3.3 cents per page, and it can also handle two-sided duplex printing to help reduce your paper cost.
HP OfficeJet Pro 9025e
Best all around printer for home and office
HP Neverstop Laser 1001nw
Affordable laser for monochrome document printing
Pros
Fast printing speeds
Affordable print costs
Easy to use
Wireless printing supported
Cons
Manual duplex printing
Small paper tray
Why should you buy this? The HP Neverstop Laser 1001nw delivers fast print speeds and exceptionally affordable print costs.
Who is the HP Neverstop Laser 1001nw for? Home and small office users looking for economical monochrome printing.
Why we picked the HP Neverstop Laser 1001nw:
HP's Neverstop Laser 1001nw might not come with all the bells and whistles or fancy designs as some other printers on our list, but it's designed to be an affordable workhorse for homes, home offices, and small businesses. This printer doesn't come with a scanner or color capabilities, but it is a fast printer that can churn out documents at 21 pages per minute. The monochrome printing limits this printer to text-based jobs, like documents, homework, PDFs, and invoices rather than photos and craft projects. If you find yourself primarily printing black-and-white jobs, this printer's superpower is its affordable long-term cost. With the cost per print of roughly 1 cent per page, this printer is designed to be an affordable workhorse rendering crisp text with its laser-printing technology.
Downsides include a relatively small paper tray at 150 sheets and duplex printing that's manual rather than automatic. Still, the printer's affordable starting price and economical print costs make it a winner for those on a budget. And similar to the idea of refillable tanks for inkjet printing, HP also created a cost-effective and environmentally friendly reloadable toner kit that you can purchase to refill, rather than replace, the toner cartridge on your Neverstop Laser. Mobile printing, AirPrint, and wireless printing are all supported, and you can use the HP Smart mobile app to gain more control out of the NeverStop Laser 1001nw.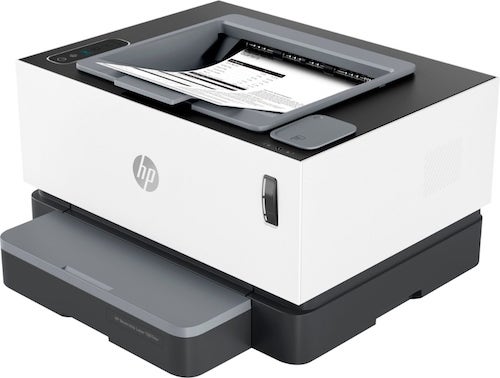 HP Neverstop Laser 1001nw
Affordable laser for monochrome document printing
HP Tango X
Stylish inkjet that will fit in with your home decor
Pros
Very good-looking
Easy to set up
No distracting buttons
Alexa, Google, and Cortana integration
Free photo printing with HP's Instant Ink program
Cons
No USB or Ethernet (Wi-Fi only)
Scan/copy functions require smartphone
No duplex printing
Why should you buy this? It's tiny, understated, and still produces great-quality prints.
Who is the HP Tango X? Home users who need a discrete printer to blend in with the decor.
Why we picked the HP Tango X:
For the average home, dorm, or even business, printing needs have never been rarer. Everyone has gone digital, and PDFs can easily be signed on your computer, but some printing is still required out of necessity. For those jobs, the Tango X steps in. This tiny printer has no screen and barely any buttons — it does everything by app and voice command, offering compatibility with Alexa, Google Assistant, and Cortana — and a fancy linen cover that makes it less obtrusive in your home.
The printer also has great color accuracy for printing photos and optional high-yield cartridges for greater flexibility, depending on what you want to print. However, there's no room on this compact model for an automatic document feeder, and it won't exactly win any awards for speed. However, it's safe to say that the HP Tango X represents the future of printing and may be perfect for you right now.
HP Tango X
Stylish inkjet that will fit in with your home decor
Epson WorkForce EC-4030
Affordable workgroup printer with terrific print output
Pros
Fast printing speeds
Reliable inkjet quality
Borderless prints up to 8.5-by-11-inch
Cons
No auto-duplexing ADF capability
Why should you buy this? It's a big MFP that does everything and does it well.
Who is the Epson WorkForce Pro EC-4030 for? Workgroups and small office users who need a fast printer.
Why we picked the Epson WorkForce Pro EC-4030:
Epson's power Workforce all-in-one printer is a boon for offices that still need a reliable printing solution that can handle whatever they throw at it. It's designed to be highly accurate and uses technology to minimize heat so the printer lasts as long as possible while still handling frequent work.
It's also speedy for its size: The printer has a 20 black-and-white ppm rating for printing and copying, and an ADF makes scans and copies speedy. The Epson WorkForce Pro EC-4030 also supports faxing for the rare times when you need to use that feature. The printer also sports all the reliable Epson features we love, including a solid touchscreen for controls, app management for setup, built-in wireless support for the office network, and more.
Epson WorkForce EC-4030
Affordable workgroup printer with terrific print output
Brother HL-L3270CDW
Fast duplexing wireless color laser printer
Pros
Fast printing speeds
Terrific printing quality
Great for high-volume printing
Why should you buy this? It's a great laser printer without any of the extraneous features.
Who is the Brother HL-L3270CDW Printer for? Office users who need a color laser printer.
Why we picked the Brother HL-L3270CDW:
If you want a laser printer for your home or office, the Brother HL-L3270CDW is a safe bet, a compact device that you can get at an affordable price. This printer can blaze through jobs at a rate of 25 pages per minute, and it holds 250 sheets of paper. Both of these factors make it a good choice for offices, where people may need to print out a lot of documents without waiting for someone else's job to finish.
The printer isn't just fast; it also supports duplex printing for double-sided pages.
Setting up the Brother HL-L3270CDW is a cinch, and in addition to its Ethernet and USB connections, it also supports wireless printing; you can connect with Android and Apple devices, among others.
Brother HL-L3270CDW
Fast duplexing wireless color laser printer
Brother MFC-L2750DW
Compact office printer
Pros
Small footprint
Loaded on features
Physical buttons for easy control
Why should you buy this? It has all the features of an office printer with a home printer footprint.
Who is the Brother MFCL2750DW for? Office users who need a fast printer.
Why we picked the Brother MFCL2750DW:
Brother's latest update to this solid printer helped maximize speeds, making it an ideal option for a busy home or office where you want printing jobs done fast. It can reach 36 ppm for black-and-white printing and is also speedy at copying and faxing for maximum productivity.
It also features single-pass two-sided printing for even more efficiency, and the automatic document feeder holds 50 sheets, making it one of the best options on our list for larger scanning projects and similar tasks. All the wireless connectivity you could want is included here, including NFC touch-to-connect for fast printing, support for printing from cloud services like Dropbox, OneNote, and Google Drive, and the ability to easily connect to your desktop, laptop, and other devices.
Unless you do larger printing projects from home, the Brother MFC-L2750DW may be a little too much of a workhouse printer for your needs. It's a perfect fit for a lobby or front office where speedy printing can be a big advantage but a full laser printer isn't really needed.
Brother MFC-L2750DW
Compact office printer
Research and buying tips
Which printer has the cheapest ink?:
Affordable ink depends on several different factorsHow much the cartridges cost upfront, how much ink the printer uses on average, and how long the cartridges last. Ultimately, it's best if you take a look at specific models and check how much the cartridges are and how long they appear to last (usually measured in page yield). Even within the same brand, ink costs can vary considerably based on the printing machine.
In general, you should look for printers that offer a high page yield for their cartridges and cartridges that are more affordable compared to alternatives. These two stats combined can tell you a lot. Inkjet printers with their liquid ink cartridges tend to cost more over time than laser printers with their large toner cartridges. All our top-brand picks, like Canon, HP, and Epson, tend to be quite efficient. Our HP picks, in particular, might be a good choice if you want to save money on ink (we were a little disappointed in our Canon Pixma model's ink performance, however). If you need to run larger print jobs, consider a printer with refillable ink tanks. While they may require a higher initial investment, the tank refills will lead to a cheaper per-page print cost and will be more environmentally friendly. If paper use is a concern, choose a printer that supports automatic duplex, or two-sided, printing.
What printer has the longest-lasting ink cartridges?
Laser printers with their toner cartridges have high initial costs for replacing toner, but toner lasts longer than almost any other printer ink type. However, if you want a home or small business printer, then a laser printer probably isn't on your list. In that case, we suggest you take a look at our top HP OfficeJet pick. HP offers very high-quality ink cartridges for its OfficeJet models, and they'll last longer than most alternatives. If you need to stretch your budget, seek out a printer with larger cartridges or XL cartridges if those are available from your manufacturer. These larger cartridges generally will cost more upfront but will reduce the cost per page in the long run as they will last longer.
What printer is the cheapest to operate?
Aside from the high initial costs, laser printers tend to be more affordable in the long run because they are so cheap to operate. However, let's say that you're looking only at inkjet printers: What should you look for?
Even if you are only printing office documents, you'll want to stick with the established brands that make durable, dependable printers. We're talking about Epson Workforce models, HP Officejet printers, and similar brand families. Multifunction printers, or MFPs, will offer more robust capabilities, including scanning, faxing, and copying.
Which printer brand is best?
Everyone's got a favorite brand, but it's no accident that names like Canon and HP regularly pop up. These brands produce quality machines and offer something for every printing need, which means you'll be able to find something in your price range. Brands like Brother aren't quite as ubiquitous, but they also manufacture high-quality printers worth considering. Epson also is making some excellent photo-quality home printers these days, a departure from the enterprise-level printers the company has previously manufactured.
How many pages per minute (ppm) is good for a printer?
You shouldn't look at printer speed as much as you should consider its output quality, but you can usually find how fast a printer works by checking out its specs. Anything above about 20 ppm for black-and-white is good for the average inkjet printer. You can usually bump this number up to about 20 ppm if you're looking at a laser printer. Printers with 40 ppm aren't as common, and it's improbable that you'd need to see this kind of yield for a home printer.
Editors' Recommendations
The best printers for 2022 Source link The best printers for 2022