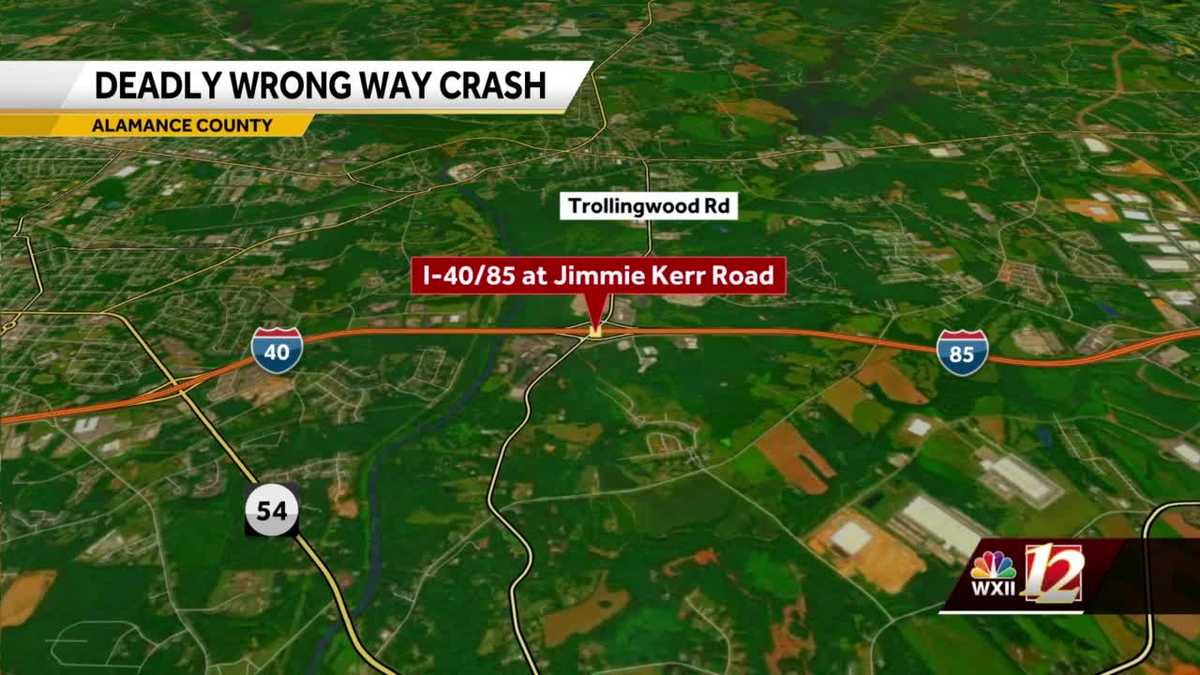 NEWS. THIS IS BREAKING NEWS AND WE'RE FOLLOWING THE BREAKING NEWS OVERNIGHT. WE NOW KNOW THREE PEOPLE ARE DEAD IN A Wreck in Alamance County. AND IT HAPPENED ON INTERSTATE 40, 85 NEAR GRAHAM. STATE TROOPERS TELL US AROUND 2:00 THIS MORNING THEY RESPONDED TO A REPORT OF A NISSAN ALTIMA WHICH WAS TRAVELING SOUTHBOUND. TROOPERS SAY A NISSAN HIT A KIA OPTIMA HEAD-ON. WE ARE TOLD THAT THE DRIVER OF THE NISSAN AND THE PASSENGER DRIVER OF THE KIA DIED AT THE SCENE OF THE ACCIDENT. THE HIGHWAY PATROL IS NOW WORKING ON NOTIFYING THE FAMILIES OF THE DEAD. THE INTERSTATE WAS CLOSED FOR APPROXIMATELY 3 HOURS DURING TROOPS
3 killed in head-on crash on I-85 in Graham
Three people were killed in a crash Friday morning in Alamance County. It happened in Graham around 1:50 a.m. on Interstate 85 near Jimmy Kerr Road. According to the North Carolina State Highway Patrol, Alexus Lolisha Shaw, 30, of Burlington, was driving a Nissan Altima the wrong way, traveling northbound in the southbound lane and collided head-on with a Kia Optima. The Highway Patrol said the driver of the Kia Optima, Abraham Rubio, 41, of Whitsett, was killed along with a passenger in his car, Ashley Maebe Rubio, 44, of Whitsett. They also said Shaw died in the crash. The Highway Patrol said records collected from Alamance Communications show Shaw entered the interstate traveling the wrong way at the Graham/Carrboro exit, exit 148 in Alamance County. They said the crash happened about two miles from that location near Jimmy Kerr Road. I-85 southbound near Jimmy Kerr Road was closed for approximately three hours during the investigation.Trending Stories
GRAHAM, NC –
Three people died Friday morning in Alamance County.
It happened in Graham around 1:50 a.m. on Interstate 85 near Jimmy Kerr Road.
According to the North Carolina State Highway Patrol, Alexus Lolisha Shaw, 30, of Burlington, was driving a Nissan Altima in the wrong direction, traveling north in the southbound lane and crashed into a Kia Optima.
The Highway Patrol said the driver of the Kia Optima, Abraham Rubio, 41, of Whitsett, was killed along with a passenger in his car, Ashley Maebe Rubio, 44, of Whitsett. They also said Shaw died in the crash.
The Highway Patrol said records collected from Alamance Communications show Shaw entered the interstate traveling the wrong way at the Graham/Carrboro exit, exit 148 in Alamance County. They said the crash happened about two miles from that location near Jimmy Kerr Road.
I-85 southbound near Jimmy Kerr Road was closed for approximately three hours during the investigation.
Popular stories

3 killed in head-on crash on I-85
Source link 3 killed in head-on crash on I-85