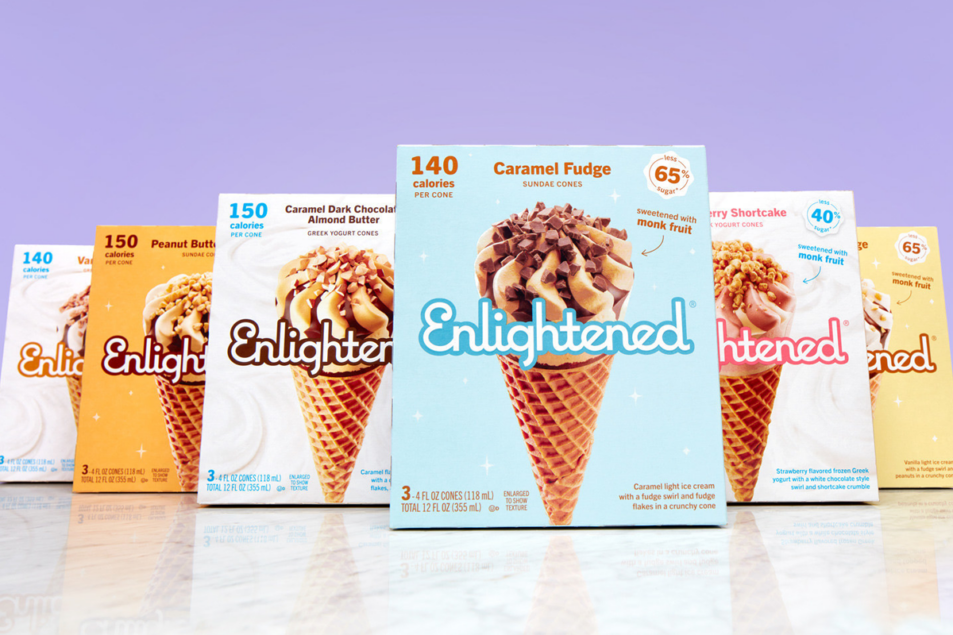 NEW YORK – Enlightened expands its offer of frozen desserts with a new line of low-sugar cones. Treats include crispy waffle cones wrapped in ice cream and covered in nuts and chocolate, as well as a tip filled with fondant, with a share of sugar and half the calories of traditional candies, according to the company.
Three varieties – vanilla, caramel and peanut butter – are prepared with light ice cream, and three more options – vanilla honey with honey core, caramel dark chocolate almond oil with almond oil and strawberry shortbread – contain frozen Greek style. The foods are sweetened with monk fruit and have only 6 grams of sugar and 140 calories per cone.
"Creating these candy cones, we wanted to offer a range of flavor profiles so everyone would find something for themselves," said Michael Shoretz, founder and CEO of Beyond Better Foods, the parent company of Enlightened. "So we created three classic flavor profiles with our best-selling light ice cream and three flavors inspired by yogurts made from frozen Greek yogurt, two of which include a flavor core for added enjoyment."
Enlightened Sundae Cones is available at eatenlightened.com and in grocery stores nationwide, including Sprouts Farmers Market, Shoprite, Walmart, HEB, Stop & Shop and more.
Enlightened presents ice cream with low sugar content
Source link Enlightened presents ice cream with low sugar content