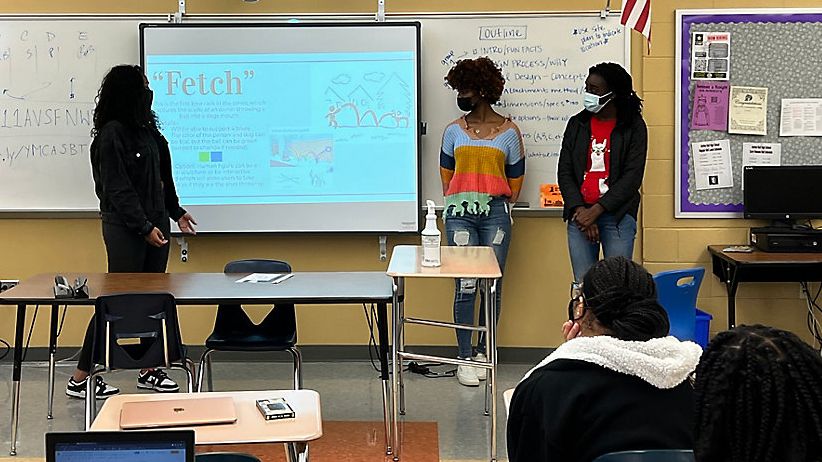 CHARLOTTE, NC – For the past few months, 11th grader Dana Madison and her classmates have been working on a unique project.
"We met every other week, twice a week, and not everyone was here all the time, so we had to work fast," she said.
Madison and her classmates are part of a club at Ardry Kell High School called IgKnight, a group that works to provide leadership and career skills for colored women.
IgKnight was launched by the nonprofit Charlotte She Built this City.
For their first project, they asked the group to set up bike racks.
"I was really surprised when we were introduced to this project because I don't know anything about bikes," Madison said.
She built this city helped Madison and her classmates design and present six bike racks for the new Charlotte Humane Society location.
Their projects then moved on to artisan Sam Sykes, who will spend the next few weeks welding it all together.
"It's really cool," he said. "It's a really good opportunity that students are also passionate about."
Madison says she was initially interested in entering the medical field after high school.
But now she says she's thinking about a career as an engineer, thanks to this program and the work they've done.
"We did it all in such a short amount of time, and the fact that we all worked together … a few days we weren't all here, but we were able to quickly adapt to the ideas we came up with together, so I'm really proud of all of us, "she said.
She built this city says she expects the bike racks to be completed and installed by the end of April.
To learn more about She Built This City and the programs it offers, click here.
High school students create bike racks for the Humane Society
Source link High school students create bike racks for the Humane Society