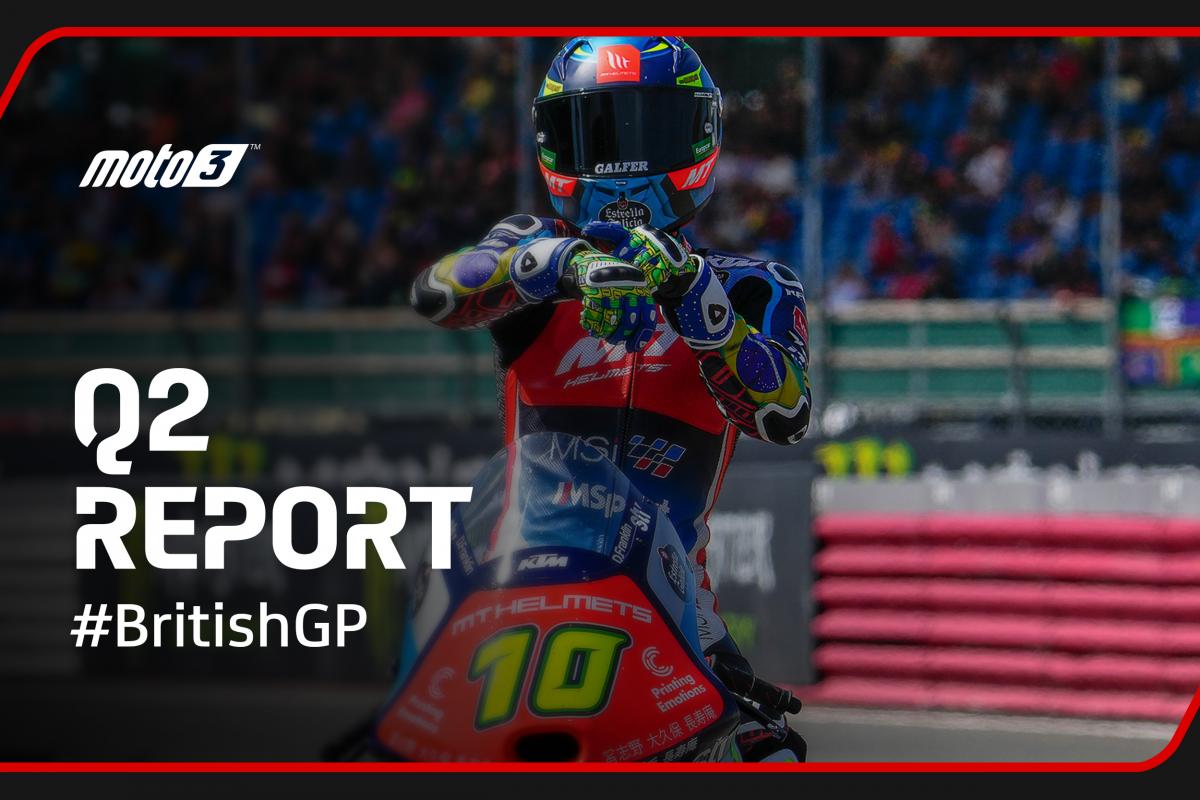 The Brazilian leads Q2 with both MSI bikes and started from the front row at Silverstone
Diego Moreiro took the first Grand Prix pole position in qualifying for Round 12 of the Moto3™ World Championship at the Monster Energy British Grand Prix. It was also the first pole for MT Helmets – MSI, with Ryusei Yamanaka even giving the new-for-2022 team a double top row, finishing third in qualifying. Splitting them up at the head of the grid at Silverstone will be Gaviota GASGAS Aspar Team's Izan Guevara, 0.068s off the pace, with world championship leader Sergio Garcia 11th fastest in Q2.
Moreira set his pole time of 2:10.951 at the start of Q2 – on his first lap to be exact. Izan Guevara (Gaviota GASGAS Aspar Team) then took second position with just under five minutes to go with a 2:11.019, his first crack. With a minute to go, Yamanaka used a tow from both Leopard Racing Hondas to set a 2:11.029 that put him in third position, which would have been on the front row, marking the Brazilian's first ever lightweight pole position. .
Riccardo Rossi (SIC58 Squadra Corse) led Q1 and finished fourth on the grid with an early 2:11.059 ahead of Stephane Nep (Angeluss MTA Team) with 2:11.131 and Denis Onkyu (Red Bull KTM Tech3) with 2:11.180. The Leopard duo of Dennis Foggia and Tatsuki Suzuki lead the third row of the grid, joined by Ayumu Sasaki (Sterilgarda Husqvarna Max), with John McPhee (Sterilgarda Husqvarna Max) rounding out the top 10.
Leader of the championship on the 4th row
Garcia came from Q1 to finish 11th with a time of 2:11.570, 0.619s off the pace, with Daniel Holgado (Red Bull KTM Ajo) in 12th. Behind them on the grid will be Andrea Migno (Rivacold Snipers Team) with Kaito Toba (CIP Green Power), Xavier Artigas (CFMoto Racing PruestelGP), Lorenzo Fallon (SIC58 Squadra Corse), Taiyo Furusato (Honda Team Asia) and Ivan Artala (Team Angeluss MTA).
The battle to get out of Q1
Back in the first quarter, 16 riders started, but the focus was on two in particular, Garcia and Jaume Macia (Red Bull KTM Ajo), the latter of whom is fifth in the rider standings. The World Championship leader was only ninth when he set a 2:11.558 to move into second, knocking Masia out of the top four. By the end of the session, Garcia was back in third place, but it was mission accomplished as far as he was concerned.
At the other end, David Munoz (BOE Motorsports) took fourth at the checkered flag, but was only there for a short period before being edged out by a further late improvement from Ortigas. Munoz should therefore start Sunday's race from 19th and share the 7th row with Adrian Fernandez (Red Bull KTM Tech3) and Masia. Joshua Whatley was 12th in the session and therefore 26th on the grid, coming out and setting a 2:12.631 after having to push his VisionTrack Racing Team Honda into the pit lane in the opening minutes.
Will Moreira turn his first pole position into his first win? Will Garcia be able to hold on to his slim championship lead? The next warm-up will take place on Sunday at 09:20 (GMT +1) and then at the Cathedral of Speed ​​at 11:20!
1. Diogo Moreira (MT Helmets MSI) – 2:10.951
2. Izan Guevara (Gaviota GASGAS Aspar Team) +0.068
3. Ryusei Yamanaka (MT Helmets – MSI) +0.078
4. Riccardo Rossi (SIC59 Squadra Corse) +0.10
5. Stefano Nepo (Angeluss MTA Team) +0.180
6. Denise Onku (Red Bull KTM Tech3) +0.229
7. Dennis Foggia (Leopard Racing) +0.255
8. Tatsuki Suzuki (Leopard Racing) +0.294
9. Ayumu Sasaki (Sterilgarda Husqvarna Max) + 0.506
10. John McPhee (Sterilgarda Husqvarna Max) + 0.609
Moreira gets his first pole position
Source link Moreira gets his first pole position