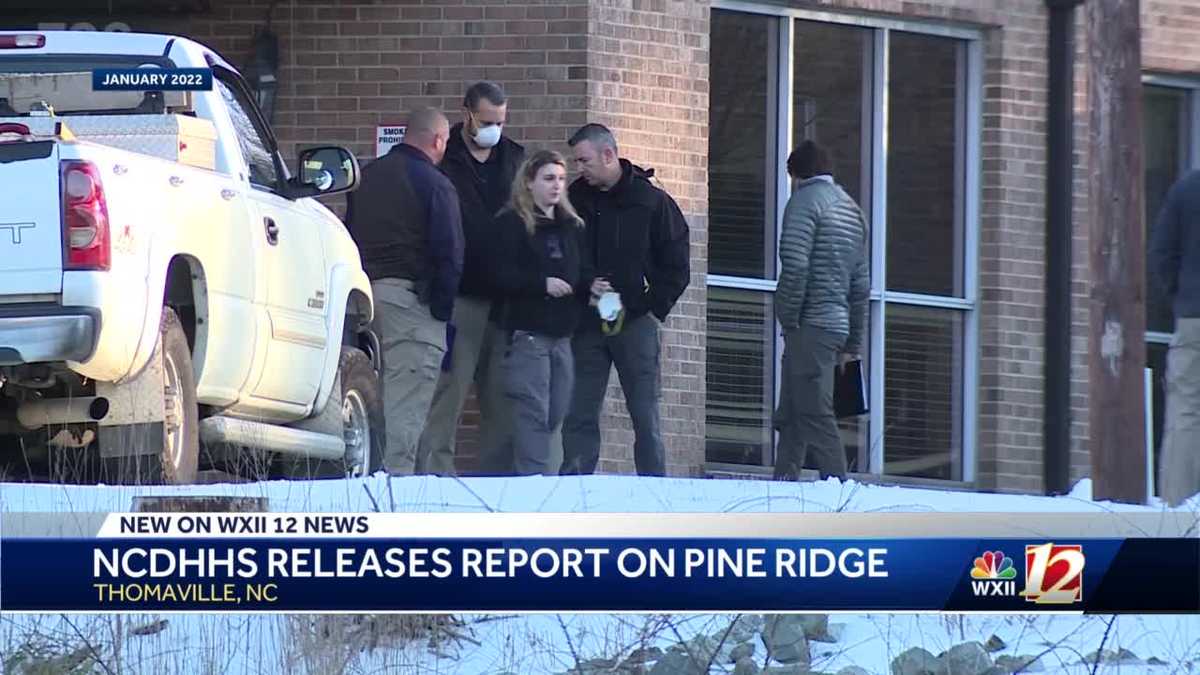 Nearly two months after Thomasville police found two residents dead and two others in critical condition at a local nursing home, the NCDHHS released a comprehensive report on the Pine Ridge Health and Rehabilitation Center. The 159-page document details alleged deficiencies in the facility, citing interviews with Pine Ridge staff, ambulance services, police and people living there. Some of the problems identified by DHHS Centers for Health Services include lack of proper training and emergency response, quality of care issues, lack of nursing staff, lack of staff to provide food, and inefficient use of resources. Thomasville police said that on the night of January 16, 2022, there were only three officers caring for 98 patients. said: "He felt that residents were neglected because of watching residents who did not feed or receive food, residents who did not receive urinary incontinence assistance, he had found a resident lying in her vomiting masses and he felt that all this is due to the fact that the facility has only one nurse and 2 NAs who care for all residents. He said that when he and other medical services arrived, they began a massive sorting of all residents to determine if there were any residents who were in acute condition through general assessment and obtaining vital signs (temperature, heart rate, respiration, arterial pressure if necessary). He said there were residents who said they were not receiving medication and were genuinely concerned about their health. In this new report, Pine Ridge also outlines a plan to fix each problem. The full report can be read here. On Tuesday, a spokeswoman for the nursing home issued the following statement: The widespread spread of Omicron caused a significant shortage of staff despite the high number of vaccinations among staff.Pine Ridge Health and Rehabilitation Center experienced a remarkable flurry of problems.In the evening of January due to severe winter weather, the peak of positive cases COVID -19 in North Carolina and more agency-dependent agency staff. " The statement continued: "Pine Ridge has worked hard to address the issues that arose that day. We take the state's concerns very seriously and respond to areas identified by regulators. We are working hard to take significant steps to ensure that "We continue to focus on the safety and well-being of our residents and staff. We are also grateful that Pine Ridge has not had any positive staff cases since early February."
THOMASVILLE, NC –
Almost two months after Thomasville, police found him two residents died, two more are in critical condition at a local nursing home, NCDHHS comes out with a comprehensive report on the Pine Ridge Health and Rehabilitation Center.
The 159-page document details the alleged deficiencies at the facility, citing interviews with Pine Ridge staff, emergency responders, police and people living there.
Some of the problems identified in the reports of the Medicare and Medicaid DHHS Centers include lack of proper training and response to emergencies, problems with the quality of care, lack of nursing staff, lack of nutrition staff, and inefficient use of resources.
Thomasville Police said that on the night of January 16, 2022, there were only three officers caring for 98 patients.
One medic who responded that night was quoted in the report as saying: "He felt that residents were neglected because of watching residents who did not feed or receive food, residents who did not receive urinary incontinence assistance, he found that resident who lay in his vomiting masses and he felt it was all due to the fact that the facility has only one nurse and 2 NAs who care for all residents. He said that when he and other paramedics arrived, they began a massive sorting of all residents to determine if residents were in an acute condition, through a general assessment and obtaining vital signs (temperature, heart rate, respiration, blood pressure, if it is necessary). He said there were residents who said they were not receiving their medication and were genuinely concerned about their health.
Shortly after the incident, Pine Ridge cit the COVID-19 pandemic and dangerous road conditions resulting from the recent winter storm as major factors of staffing problems that night.
In this new report, Pine Ridge also outlines a plan to fix each problem.
You can read the report in full here.
On Tuesday, a spokesman for the nursing home issued the following statement:
"The COVID-19 pandemic has led to unprecedented disruptions in the country's skilled nursing industry. Earlier this year, the widespread use of Omicron caused a significant shortage of staff, despite the high number of vaccinations among employees. One January evening, the Pine Ridge Health and Rehabilitation Center experienced a perfect storm of problems due to harsh winter weather, the peak of positive COVID-19 cases in North Carolina and increased reliance on contract agency staff. "
The statement continued: "Pine Ridge worked hard to address the issues that arose that day. We take the state's concerns very seriously and respond to areas identified by regulators. We are working hard to take significant steps to ensure that all residents receive medical care and support. We remain focused on the safety and well-being of our residents and staff. We are also grateful, as Pine Ridge has not had any positive employee cases since early February. "
NCDHHS releases report on Pine Ridge Health and Rehabilitation Center in Thomasville
Source link NCDHHS releases report on Pine Ridge Health and Rehabilitation Center in Thomasville