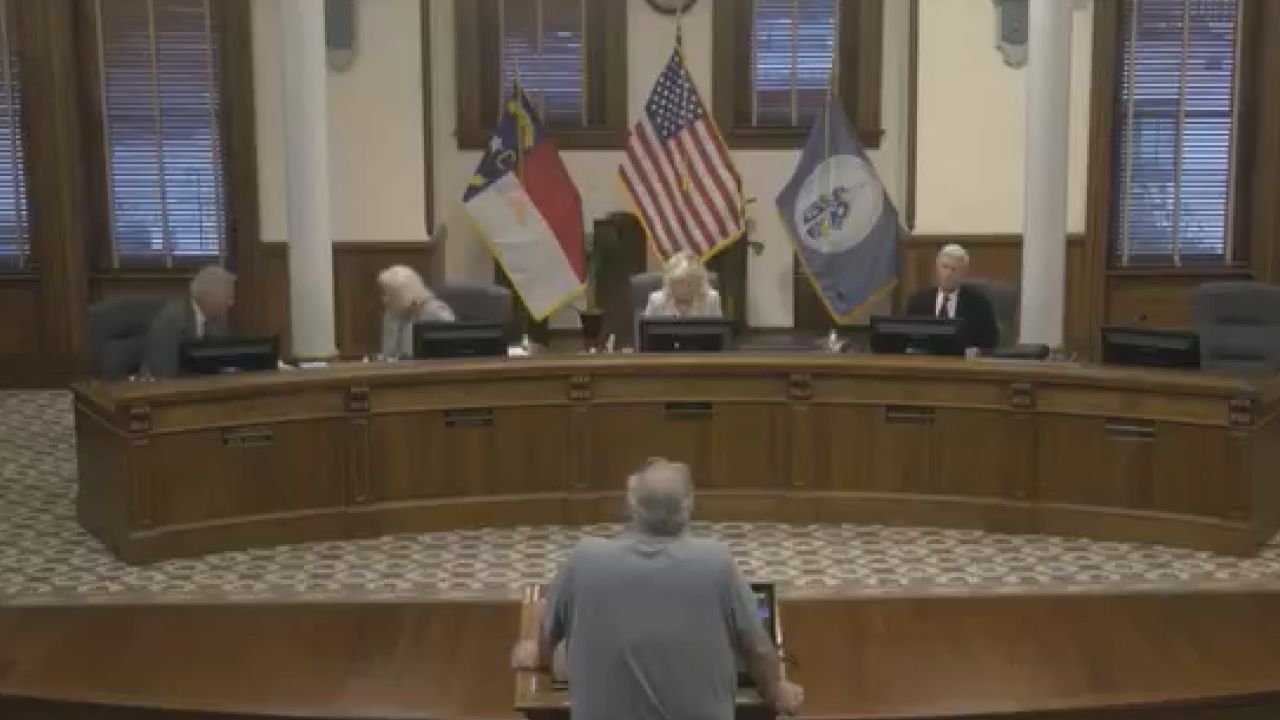 NEW HANOVER COUNTY, NC (WAY) — A New Hanover County resident is suing county commissioners after he was removed from an October 2023 meeting while speaking during public comment.
New Hanover County resident Neil Shulman claims his free speech rights were violated during an Oct. 3 meeting when Julia Olson-Bozeman, then chairwoman of the Board of Commissioners, interrupted him during public comment, asking a bailiff to remove Shulman from the meeting.
Dialogue between Shulman and Olson-Bozeman during the meeting included:
Neil Shulman: Who here is going to make a business deal with Julia Boseman and give her $50,000?
Julia Olson-Buzman: "And everything is ready. Goodbye."
Shulman: I'm not done yet.
Olson-Boseman: No, I'm sorry.
Shulman: But you have the same thing with Novant.
Olson Boseman: Put it away, put it away. It's not… you're not attacking me personally. Bailiff, remove it. Time is up."
Two weeks after Neal Shulman was removed from that October meeting, his attorney, Richard Teokas, filed a lawsuit in New Hanover County Superior Court.
The lawsuit alleges that Julia Olson-Bozeman violated more than just the rules and ethics code of the new Hanover County Commission by removing Shulman.
"It alleges that the chair at the time, Julia Olson-Buzman, effectively as a group violated my clients' First Amendment rights to free speech," said Richard Teokas, Shulman's attorney.
In addition to Olson-Buzman, those charged include County Manager Chris Coudriet and County Attorney Wanda Copley, as well as the rest of the New Hanover County Board of Commissioners, with the exception of Jonathan Barfield, who was absent from the meeting.
The filing states that others did not object to Olson-Bozeman's removal of Shulman.
"This is a point of view of discrimination, or some literal discrimination against Mr. Shulman and his right to speak before a government agency," Teokas said.
After the initial filing, defense counsel filed a motion to dismiss and prepared a written memorandum of law arguing that New Hanover County is entitled to state immunity, which protects state and local governments from lawsuits.
"What about governmental immunity, and it would apply if they were acting within the bounds of their governmental duties, but in this case, if you're directly denying someone their First Amendment rights, that's — you're overstepping those boundaries, and you're not in the we have no defense to bring a claim against them for their conduct, and that's what we did," Teokas said.
WWAY reached out to the office of Frederick Bailey, the attorney representing the defendants, but they had no comment at this time.
The case has been transferred to federal court.
The lawsuit demands that Shulman receive a minimum of $50,000 in damages if the court rules in his favor. His lawyer expects it will be at least a year before the lawsuit is settled. If there is no agreement, the claim will be submitted to the court.


New Hanover County resident sues county leaders after being kicked out of 2022 meeting
Source link New Hanover County resident sues county leaders after being kicked out of 2022 meeting