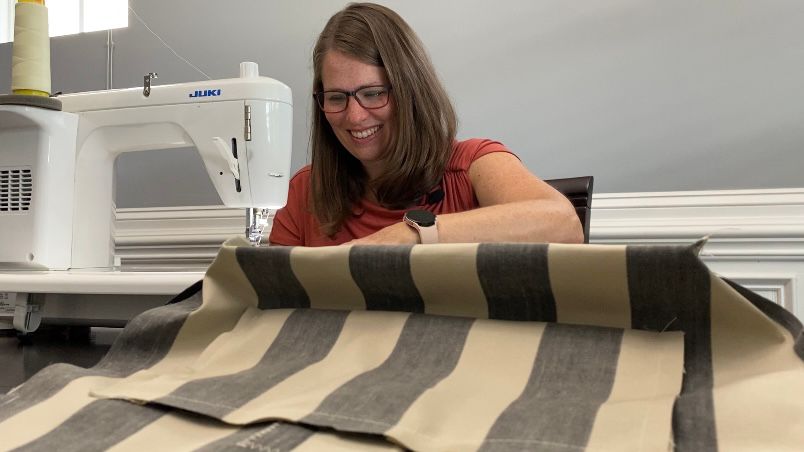 MOORE COUNTY, NC — Choosing to serve in the military affects the entire family, including those who sacrifice at home supporting our nation's heroes in service.
What you need to know
R Riveter is a company that provides steady employment to military spouses across the country
Military families move every two to three years on average
Consistency is often one of the hardest things for those who serve and their families
Unfortunately, being a military spouse doesn't come with a survival manual, but Jennifer Gentry is a military spouse who found her place in the military community by accident while exploring the Southern Pines Center just over two years ago.
"We were shopping and my husband was looking at a bag and said, 'I think you could do this,'" Gentry said. "And the manager over her head and she said, 'We really need people.'"
Now she works from home, sewing Riveter bag liners before sending them to be finished by other military spouses stationed around the country. She said working with R Riveter has not only given her purpose and a steady income, but also a nationwide community of people who understand exactly what she goes through as a military wife.
"I think it's an opportunity that people have a hard time finding," Gentry said. "I kind of came across it, but at the same time, these opportunities are there for spouses, you just have to look. … I guess it's true, every military base has companies that are started by veterans that have gotten out, put down roots, and they have a company, and they want to hire spouses and veterans, and it's a great way to meet people who understand what you're going through."
Gentry said the first time her husband was stationed, it was difficult to find his place and balance a new lifestyle that is never the same two days in a row.
"I didn't know anyone from the active military. I had no friends who were in the military or married. It was completely new to both of us," Gentry said.
These bags are more than a job for her, they are a way to support her husband and to remind herself of the many other people who have sacrificed something in their lives so that another can answer the call of service.
"It's just such a great remembrance of things … the sacrifices that we made because he wasn't there at that time and you see it and you just remember everything that it means," Gentry said.
Her husband only has three years left until he can retire from the military, but she hopes that even after his service ends, she can continue to work with R Riveter and use her sewing machine to support our military and their families.
"My husband loves being in the military, so it's not just a job for us, it's something he loves to do," Gentry said. "We love our country. We love that this is a place where we can be free and we can do what we want and think what we want and say what we want… the fact that we can take part in creating that , which everyone has, is a special thing."
Opportunities for military spouses
Source link Opportunities for military spouses